Food is certainly one of the most iconic attribute of every city. No city is complete without its own set of mouth watering delicacies because after all the sightseeing and roaming around one need to munch down all the good food. Along with amazing tourist spots there are very iconic food dishes from Dehradun. Now, all the travel sites will tell you about the best restaurants but we tell you the food specialities of Dehradun. Now before proceeding further, we are going to tell you the best dishes and the best places to have them, so expect great taste and not great facilities.
Momos at Kalsang – Momos are a traditional Tibetan Delicacy which is basically stuffed dimsums mostly steamed and also sometimes fried. If ever there is an official dish of Dehradun is to be elected then Momos will be the clear winner. Kalsang is one of the best places in the city to have some of the most authentic momos and also other Thai delicacies. This has to be on top your list if you are visiting Dehradun.
Bun Tikki at Dwarika Store Chowk – Mumbai has Vada Pao, McDonalds has Mc Aloo Tikki and KFC has a Zinger. Dehradun has its own version of a burger. A simple recipe that is sure to take your taste buds for a roller coaster ride. A Bun Tikki is the only dish providing competition to momos in the list of Doon delicacies and the most famous road side food in Dehradun.The Bun Tikki wala at the Dwarika Chowk is probably the oldest and most popular in the valley. You may not get many amenities or waiters but you will surely going to see people of every social scale standing there.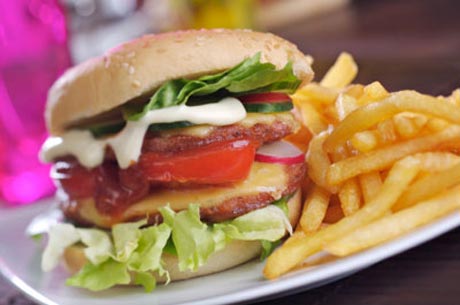 Katlamba at Sethis- Or Katlama as it is originally known is a dish of Pakistani origin. Now this dish may not much known all over India but it is quite a common street food in Dehradun which is a close alternate to Cholla Bhatura. It is a big crispy parantha which is served with Cholle and salad. Sethi's Katlamaba is near the Kotwali of Paltan Bazaar while going to the Macchi Bazaar. He claims that he has learned the recipe from his ancestors who belonged to those regions before partition.
Chinese at Countdown – Due to a close connection with Tibet and China, Dehradun has been blessed with awesome Chinese food. Right from the road side thela to the most eminent restaurant, Chinese food can easily be found and also loved. Countdown is probably the oldest restaurant of the city and also was the pioneer of Chinese food in Dehradun. Since years, Countdown has been serving some of the most authentic Chinese.
Pakodas at Sardar ji – Well, this sort of a one man show in the city. When you visit Doon don't forget to visit Sardarji on Main Rajpur for a plate of hot, crispy and staggering Pakoras with Adrak Chai. These Pakoras are famous all around the city and it is a landmark in itself. So just ask anyone and you will be suitably guided.
Fish Pakoras at Tara Macchi Wala – When you talk about some of the places to have food in Dehradun there is no way that Tara Macchi Wala is not mentioned. No food discussion of Doon can be completed without this year old and a general favorite point for Fish Pakoras. Located at the centre of the city just opposite the St. Thomas College is Tara Macchi wala who for years has been serving some of the yummiest fish pakoras.
Milk Rusks at Sunrise – From Grands, Sunrise, Standards or even the Elloras. A bakery is not considered as good in Dehradun unless their Milk Rusks are good. Milk Rusks has been one of the most favorite things for the Doonites with their Chais. These rusks of Dehradun are famous all over the country now and Doon is retaining of making some of the crunchiest and yummiest Rusks.
Faluda Kulfi at Kumars – Kulfis are famous all around the Northern India. These are basically homemade Ice Cream sticks which are primarily made of Milk and dry fruits. Faluda Kulfi on the other hand is a different form of kulfi where you get Kulfi mixed up with sweetend Noodles which gives a certain kick to an already loved dessert. Kumar Sweet Shop, one of the icons of Dehradun, serves Faluda Kulfi during the hot Summer days and this is something which you would wanna try when in Doon during the summers.
Bal Mithai at Bengali Sweet Shop – Every mountain guy is proud of this special mithai. Bal Mithai or even Balam Mithai is a special type of a sweet which is mostly found only in the hilly areas of the country and especially in Uttarakhand. These are brownish cubes enveloped in small white sugar balls. This can be easily found in each and every major sweet shop in the city. Bengali Sweet Shop which is also one of the oldest sweet shop makes Bal Mithai which is famous all around the city.
Maggi at Maggi Point(Negi Restaurant) – Now, many may think that what different would a maggi be anywhere. But, the difference is of the experience with a domestic recipe of the Maggi Noodles. When you start up towards Mussoorie there is several small eateries right at the edge of the road and all of those provide Maggi. But Negi Restaurant is one of the most famous out of those and also one of the firsts. The view of Dehradun Valley while having a warm bowl of Maggi and a Chai is something which even restaurants with the biggest amenities cannot provide.
So, these were some of the many, many awesome dishes and the places to enjoy them from the Doon Valley. Now you know what to try and where when you visit Doon the next time or even for the first time. Aim to try them all and take the flavors of Dehradun with you.